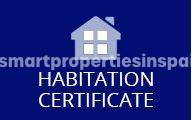 September 26, 2016
The Habitation Certificate
The habitation certificate, also called license first or second occupation, is a document that verifies that house meets the minimum habitability conditions.
The document is issued by the council of each locality. To achieve this, you need a technical report of a professional architect or engineer, depending on the autonomous community, corroborating that your home complies with the regulations.
Do I need the habitation certificate?
The habitation certificate is required for obtaining household supplies such as electricity and water. It is also needed in some communities for the processes of sale or rental of housing.
The habitability requirements in the regulations of the construction. Currently all homes are built following the requirements of the autonomous community in which they find themselves. Therefore, if your house is new, you do not have to worry as you will be awarded the 1st habitation certificate upon completion of the house.
With regard to previously built homes, the card expires from between 5 to 10 years depending on the location and the type of certificate. In order to renew and obtain the certificate or license of second occupation, certain modifications may be required if it is an older property and does not meet the current legal requirements.
Successive certificates or licenses will be second occupation, unless you make a complete rehabilitation affecting elements relating to habitability. In this case, you must apply for a new license of first occupation rehabilitation.
In all these cases, you need to seek help from a professional expert who will obtain a certificate of habitability of housing and attach the relevant information that so that the council will grant the certificate.
identification card-occupancy-compulsory
What are the requirements for habitability?
The technician will have to make a visit to the property and review the following points:
- The number of rooms and minimum dimensions of each. The minimum stay is a living / dining room, a kitchen, a bathroom and a bedroom.
- The health and hygiene. They are measured by factors such as ventilation and lighting.
- Safety. The type and condition of facilities and construction materials.
The requirements vary in each region but, as throughout Spain the same Technical Building Code is followed, changes are usually minimal.
What tends to, change, is certain documentation and a professional expert will have this knowledge and will provide the correct technical report needed by the municipality for the issue of the certificate. It is therefore important to have a skilled professional throughout the process.
The process of obtaining the certificate can sometimes take time therefore it is important that you start this process in plenty of time. This is a service that Smart Properties can offer you, we can obtain the certificate for you, whether it is a new one or a renewal of an expired license, just give us a call and let us do the work for you.
Share