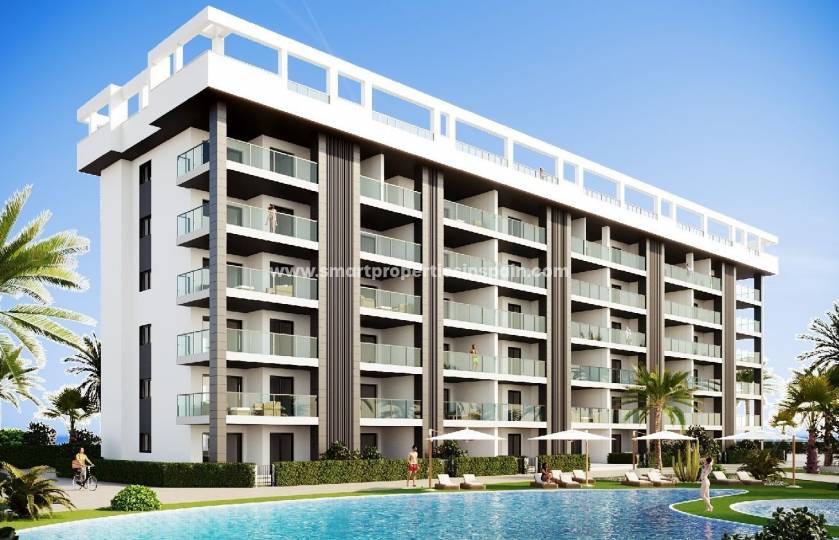 September 26, 2023
Enjoy luxurious living by the sea in this new build apartment for sale La Mata Torrevieja
Are you looking for an exclusive retreat in Spain where you can meet people from the same background as you and also adopt a Mediterranean lifestyle? We present you a new build apartment for sale in La Mata Torrevieja that will not disappoint you. Torrevieja is a coastal area located in the south of the province of Alicante and one of the most popular tourist destinations on the Costa Blanca, thanks to its climate, its beaches, its leisure offer and its multicultural atmosphere .
Torrevieja, a multicultural town, with charm and quality of life
Torrevieja has many attractions that make it an ideal place to live or spend a holiday. Some of them are:
The climate : Torrevieja enjoys a Mediterranean climate, with an average annual temperature of 18ºC and more than 300 days of sunshine a year. This allows you to enjoy the outdoors and nature at any time of the year.
The beaches: you can find beaches of fine golden sand, rocky coves and cliffs. Some of the most famous beaches awarded with the Blue Flag are those of La Mata, Los Locos, El Cura or Los Náufragos. These beaches offer crystal clear and clean waters, as well as quality services and infrastructure.
Leisure: Torrevieja offers a wide cultural, festive and leisure offer, with events and activities for all tastes and ages. Highlights include the Carnival, the Patron Saint Festivals, the International Habaneras and Polyphony Contest... In addition, Torrevieja has a wide variety of restaurants, bars, pubs, nightclubs and shops where you can enjoy the nightlife.
The environment: Torrevieja is surrounded by a privileged natural environment, where you can admire unique and singular landscapes. Among them are the La Mata and Torrevieja Lagoons, which form the most visited Natural Park in the Valencian Community and are home to a great diversity of flora and fauna.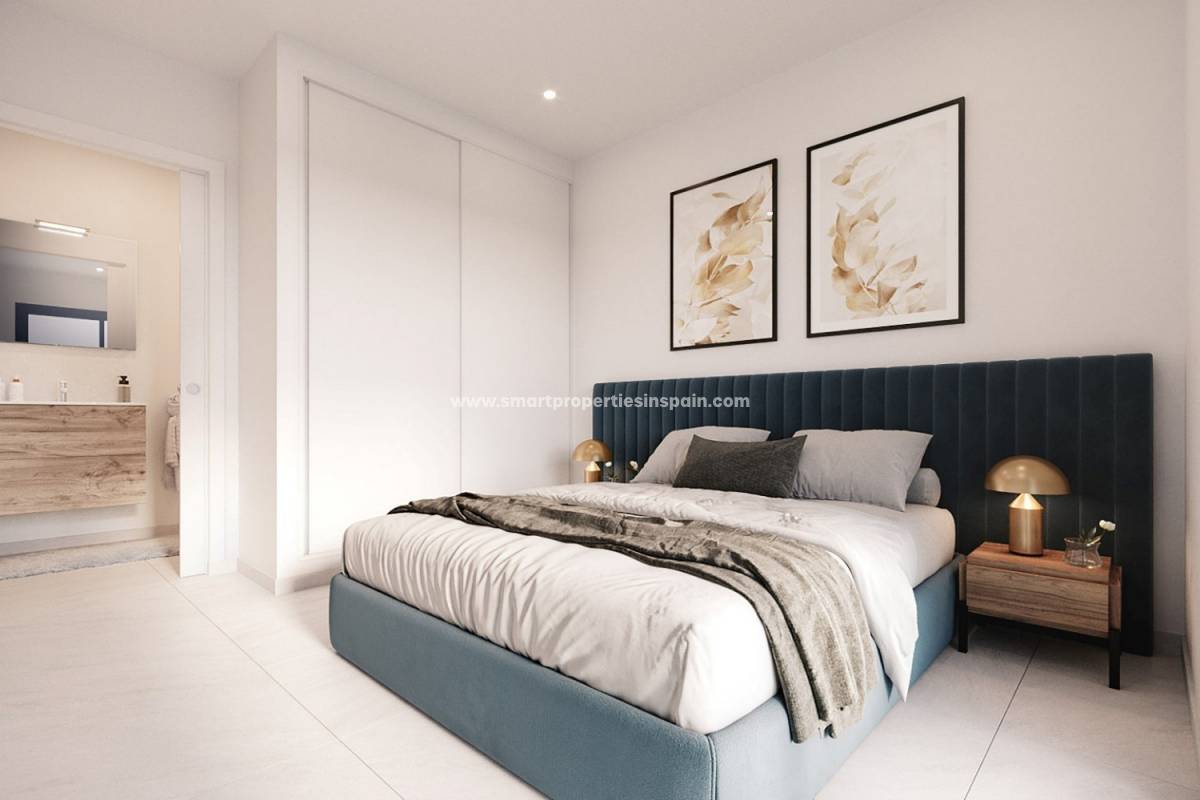 Find here the new build penthouse or apartment for sale in La Mata Torrevieja, with sea views, that you were looking for
If you want to buy a new construction apartment for sale in La Mata Torrevieja or an exclusive penthouse with sea views, we present a unique and unrepeatable promotion. We offer you newly built apartments located very close to La Mata beach, one of the most popular and extensive beaches in Torrevieja. Our apartments and penthouses have spectacular views of the sea, as well as luxury qualities and finishes. Some of the most notable features of each new construction apartment for sale in La Mata Torrevieja are:
Large, modern bedrooms with built-in wardrobes and elegantly decorated bathrooms.
It has a spacious living-dining room with an American kitchen equipped with appliances.
Large sunny terrace to contemplate views of the sea and the surrounding landscape.
It has ducted air conditioning, electric blinds, LED lighting and a home automation system.
It is part of a private residential complex with a community pool , children's area, gym and sauna.
For more information click here https://smartpropertiesinspain.com/property/7981/apartment/new-build/spain/alicante/la-mata/la-mata/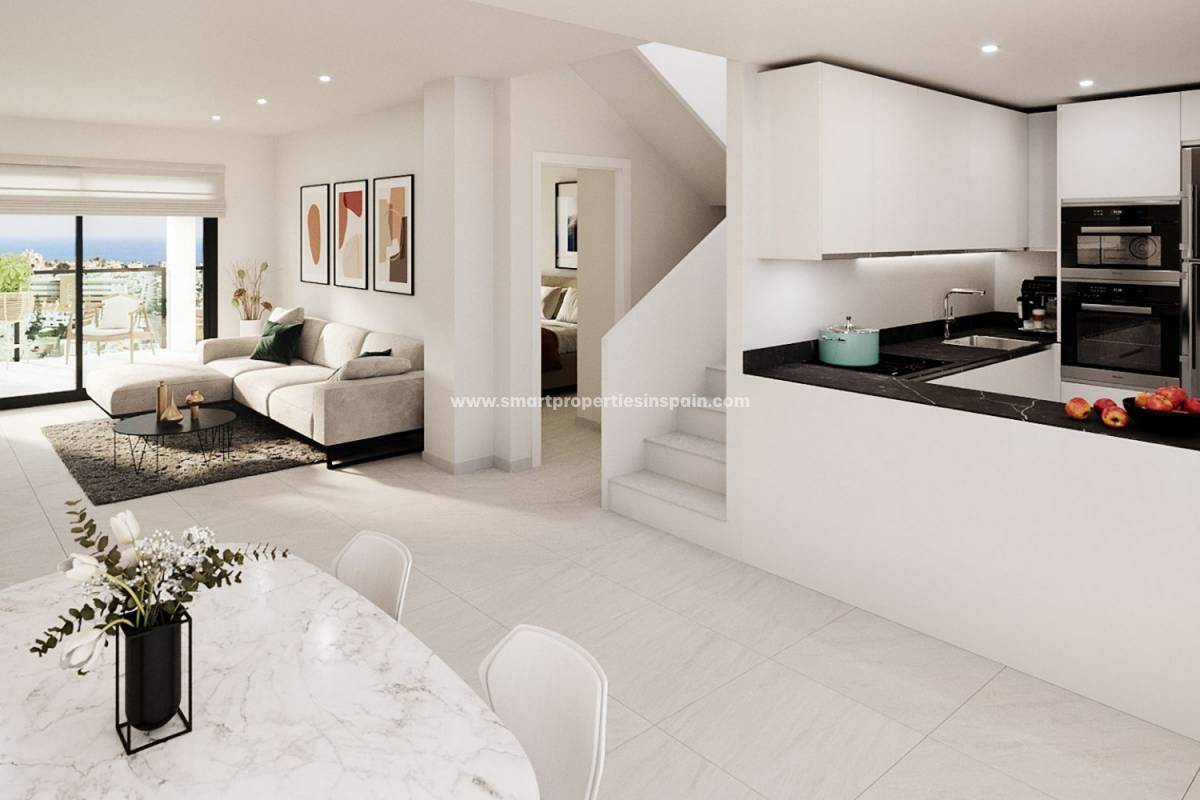 For only 252,800 euros, this new build apartment for sale in La Mata Torrevieja can be yours
If you want to buy a new construction apartment for sale in La Mata Torrevieja with excellent qualities, an enviable location and, if that were not enough, at a super competitive price, do not miss this real estate offer. At SMART PROPERTIES we offer you the best investment options, we help you find the financing that best suits your situation, we facilitate all the necessary legal and administrative procedures and we offer you after-sales services in Torrevieja to live comfortably in your new New construction apartment for sale in La Mata Torrevieja.
Amsterdam Street Office:
Pisuerga Park Office
Telephone: +34 966 790 787 |Mobile: +34 622 001 605 |Address: Calle Ámsterdam 1, 03177 San Fulgencio (Alicante)
Telephone: +34 966 919 928 |Mobile: +34 688 265 406 |Address: Parque Pisuerga 56, 03177 San Fulgencio, Alicante
Image gallery
Share