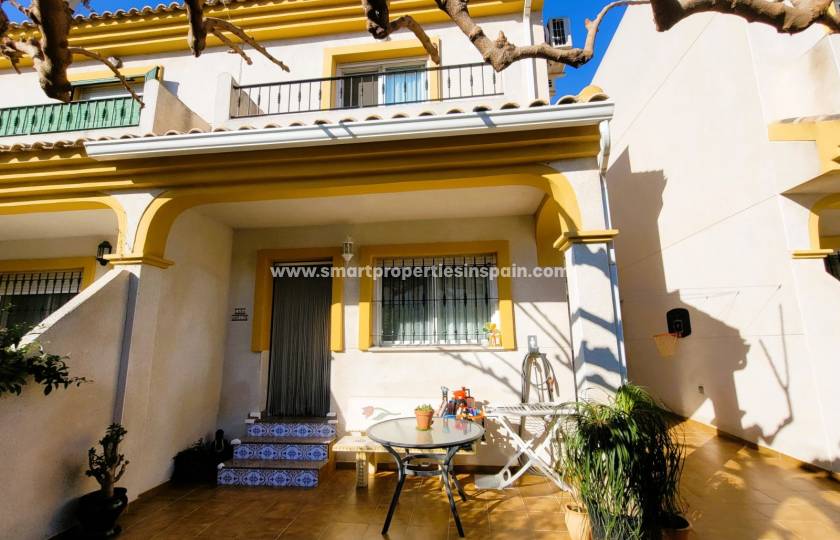 July 18, 2023
Would you like to live in the best rural area of Alicante without giving up the sea and leisure? Discover this bungalow for sale in Daya Nueva
If you want to live in one of the best rural areas in the province of Alicante, a very interesting option is to settle in this bungalow for sale in Daya Nueva. Considered a refuge for European residents, Daya Nueva is a picturesque village located in the heart of the Costa Blanca in Spain, specifically in the Vega Baja del Segura. Among the most important attractions, we highlight:
Proximity to the beach: Just a few minutes by car, you will find the award-winning beaches of the Costa Blanca, where residents can enjoy the sun, the sea, and a wide variety of water activities.
Natural surroundings: Surrounded by orange fields and orchards, Daya Nueva offers a relaxing natural environment and stunning landscapes that invite you to explore and enjoy nature.
International community: With a growing community of foreign residents, Daya Nueva is a welcoming and multicultural place where you can establish international connections and friendships.
Services and amenities: Despite its rural charm, Daya Nueva has a wide range of services and amenities such as shops, restaurants, supermarkets, and different leisure options.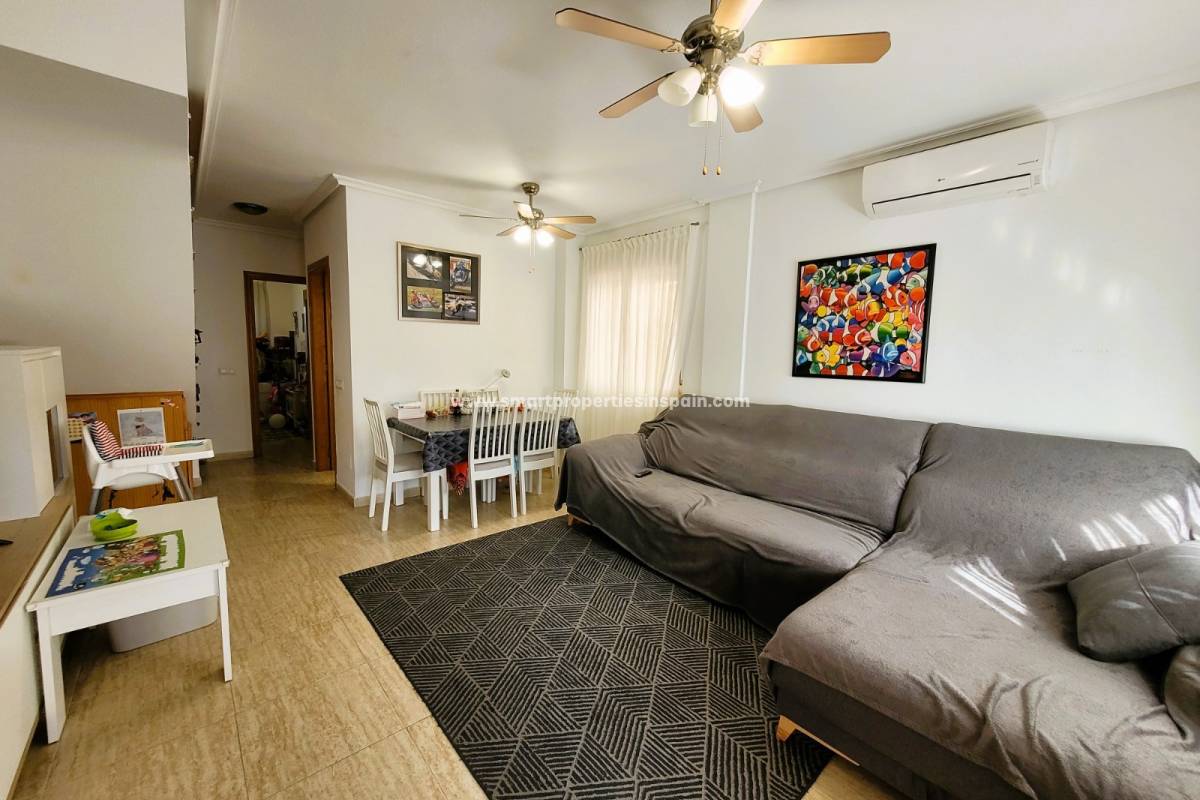 For only 139,000 euros, this bungalow for sale in Daya Nueva can be yours
Smart Properties presents you with a unique real estate offer: a bungalow for sale in Daya Nueva for 139,000 euros! With 100m2 and in excellent condition, our townhouse for sale in Daya Nueva has a Mediterranean aesthetic and offers numerous attractive features in exchange for a very reasonable price:
Spacious garden, large sunny terrace, and good-sized garage.
Spacious living room with plenty of natural light, air conditioning, and ceiling fans.
Additional room perfect for children's use.
Bathroom with shower and window.
Kitchen equipped with appliances and access to a covered patio with an awning.
Two double bedrooms with fitted wardrobes and a balcony with south-facing views.
Roof solarium with stunning mountain views.
Other extras that you will love are the communal swimming pool and gardens, as well as the quiet location with convenient access to leisure facilities (shops, bars, restaurants, medical center, town hall...). For more information, click here: https://smartpropertiesinspain.com/property/7967/bungalow-near-commercial-area-en-la-daya-nueva/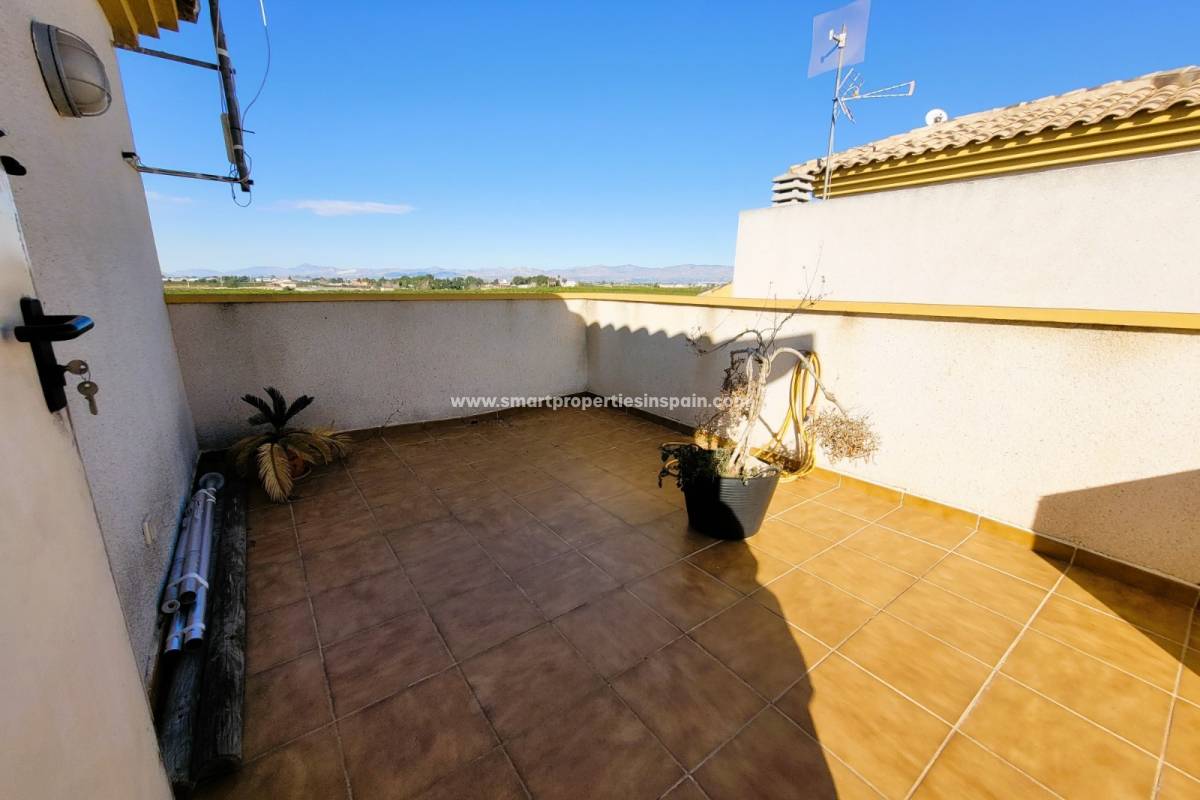 This charming bungalow for sale in Daya Nueva is perfect for you if you are looking for an affordable and cozy home on the Costa Blanca
Whether as a permanent residence or as a vacation getaway, this bungalow for sale in Daya Nueva offers its future owners a quiet and authentic lifestyle. Additionally, it will allow you to live near the Mediterranean Sea and have access to modern amenities. Without a doubt, it is a perfect place if you are looking to escape the hustle and bustle of the city and enjoy a relaxed life. Expand your information by contacting us or book an appointment to view this bungalow for sale in Daya Nueva live via:
Office at Calle Ámsterdam:
Phone: +34 966 790 787 | Mobile: +34 622 001 605 | Address: Calle Ámsterdam 1, 03177 San Fulgencio (Alicante)
Office at Parque Pisuerga:
Phone: +34 966 919 928 | Mobile: +34 688 265 406 | Address: Parque Pisuerga 56, 03177 San Fulgencio, Alicante
Image gallery
Share