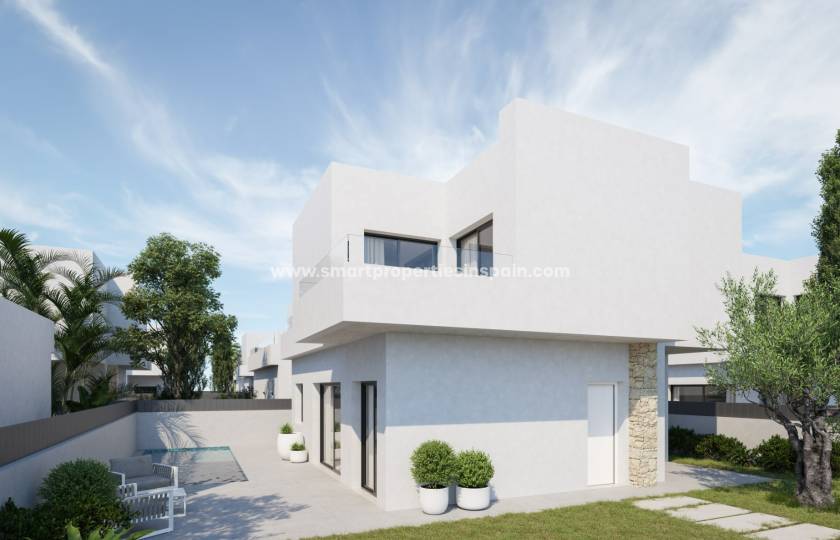 May 24, 2023
Are you attracted to modern houses and country living? You will love this new build villa in Dolores
In the heart of the South Costa Blanca, you will find this modern new build villa in Dolores, a charming town located in La Vega Baja del Segura, an agricultural area with fertile land and beautiful orchard landscapes. If you are looking for new developments for sale in Dolores, SMART PROPERTIES is the most suitable agency to find your dream home, surrounded by nature and close to the tourist beaches of the Spanish Mediterranean. In Dolores, you will find many privileges that will enhance your quality of life:
You will find typical restaurants where you can taste delicious homemade dishes such as rabbit rice, "arroz con costra," and tasty meatball stew.
You will discover an oasis of tranquility and calm in fields, green paths, and ecological landscapes.
You will live comfortably with easy access to a multitude of services (supermarkets, pharmacies, health center, police stations, etc.).
You will relax in the sun in your private home without annoying noises.
You will enjoy a slower-paced and less bustling lifestyle.
Dolores has become one of the most sought-after inland towns for year-round living by foreign residents thanks to its healthy and relaxed lifestyle and its strategic location: close to the Mediterranean coast, Alicante International Airport, and golf courses. The South Costa Blanca is known for its prestigious 18-hole golf courses. Dolores has an excellent location with easy access to nearby golf clubs such as La Finca Golf, Vistabella Golf, and La Marquesa Golf Club.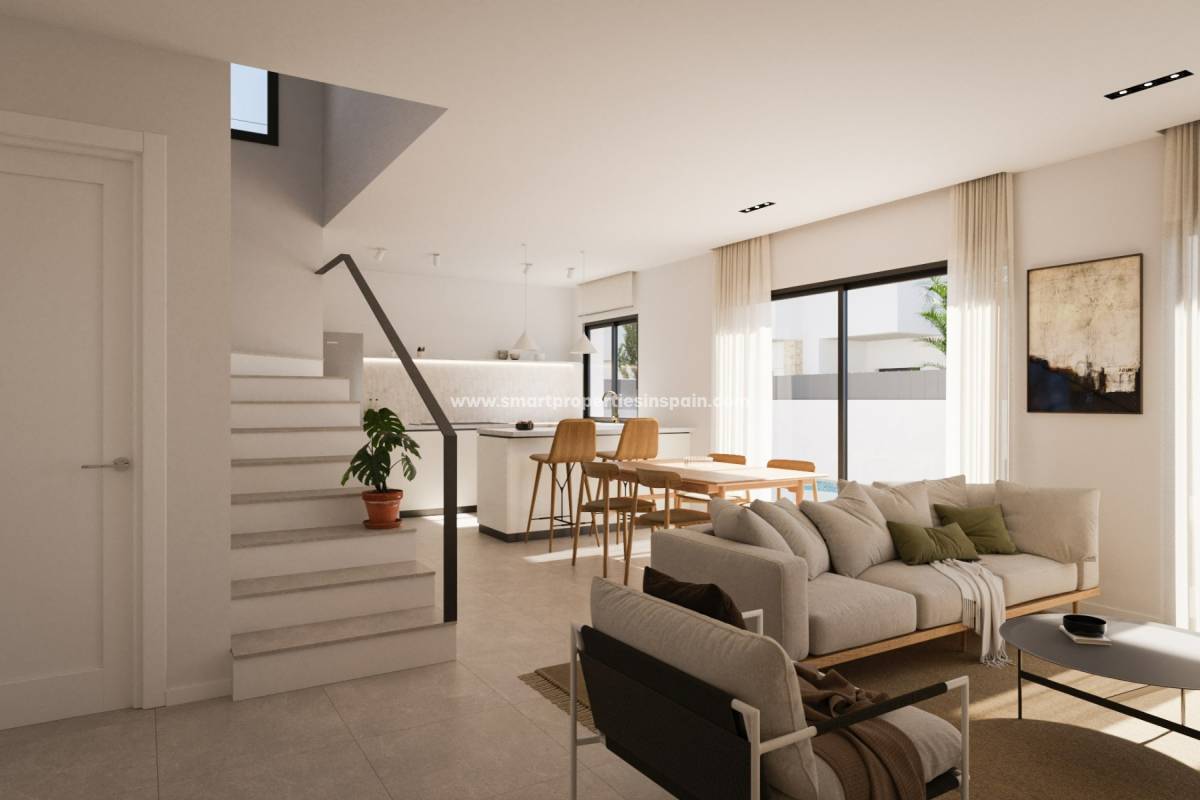 Nature and luxury come together in our new build villa in Dolores Paradise, an exclusive new development in the countryside
If you are looking for a new build villa in Dolores located in a peaceful environment surrounded by nature that allows you to enjoy the excellent Mediterranean climate, this will be your new home. Here, you will make the most of the views of natural landscapes, experience the quality of life under the Spanish sun, live with all the comforts, and understand why so many European residents choose our villas in Dolores Paradise. If you long for a better life in the countryside and want to move to a spacious house with technological features and contemporary design, you will love living in this luxurious new build property in Dolores:
Modern decoration combined with Mediterranean style.
Bright and spacious rooms.
Perfectly integrated into the countryside landscape.
With private terraces, garden, swimming pool, etc.
Open-plan kitchen with high-end appliances.
Discover more at https://smartpropertiesinspain.com/property/7940/detached-villa/new-build/spain/alicante/dolores/dolores/.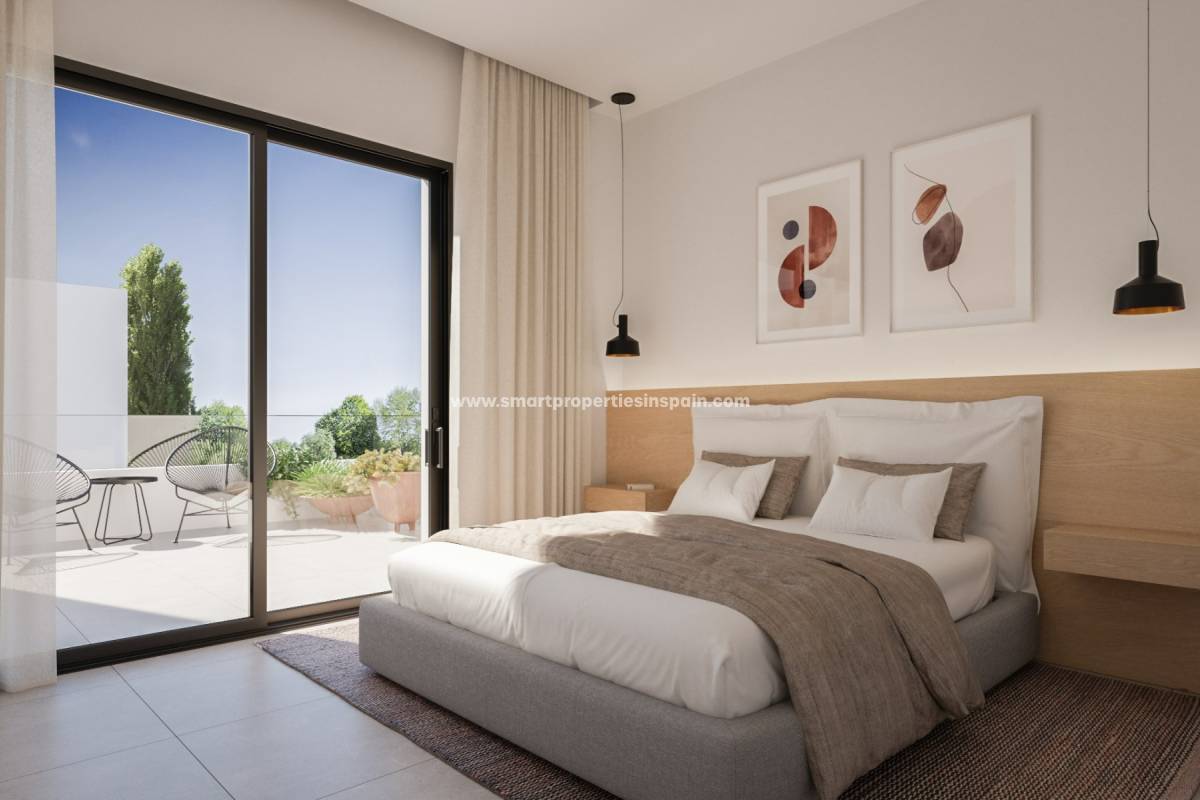 Do you dream resting in a peaceful haven like this new build villa in Dolores?
If you are looking for a change of scenery and wish to immerse yourself in a quieter environment, this new build villa in Dolores is perfect to make your new life project come true, whether it's for enjoying sun-filled vacations or settling permanently. Call us right away and discover the lifestyle that awaits you in our new build villa in Dolores.
Telephone: +34 966 790 787 | Mobile: +34 622 001 605 | Address: Calle Ámsterdam 1, 03177 San Fulgencio, Alicante | Email: sales@smartinmo.com
Telephone: +34 966 919 928 | Mobile: +34 688 265 406 | Address: Parque Pisuerga 56, 03177 San Fulgencio, Alicante | Email: sales@smartinmo.com
Image gallery
Share