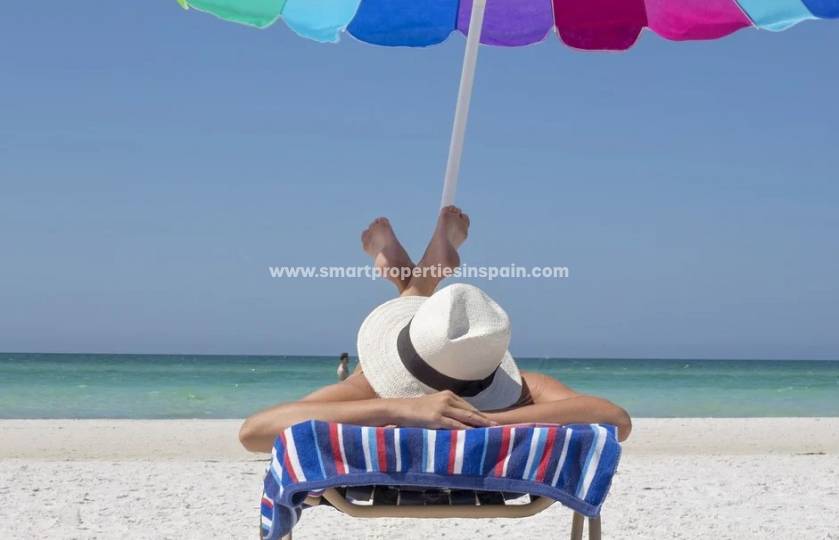 September 15, 2021
Detached villas for sale in La Marina urbanisation, the perfect place to relax on the Costa Blanca
Take advantage of the last days of summer to rest and take a relaxing bath in the idyllic beaches of the Costa Blanca. At SMART PROPERTIES we offer you fabulous
Detached villas for sale in La Marina Urbanisation, a special place to live all year round enjoying the bright sun that shines in this idyllic part of the Mediterranean coast.
In the La Marina Urbanisation the sun shines more than three hundred days a year , which will allow you to carry out all kinds of outdoor activities: cycling, hiking, playing golf, talking with your friends on the terrace of a cafeteria, etc. Hot summers give way to mild and very pleasant winters . Gardening enthusiasts will love tending the garden or growing their own organic garden, but if you are passionate about the sea, any time is perfect for strolling along the shore of the nearby beaches of La Marina and El Pinet. At SMART PROPERTIES we invite you to discover the attractive lifestyle offered by La Marina Urbanisation, in which you will find all the necessary services to live in total comfort.
If you dream of living in Spain, our Detached villas for sale in La Marina Urbanisation meet all the conditions you want
Among our Detached villas for sale in La Marina Urbanisation we have an interesting selection of new construction properties . You will love the elegant modern style of our homes characterized by:
Large glazed areas on the facades that facilitate the entry of the sun into the house
Exclusive design with straight and minimalist lines
Large terraces with open views to Nature
Low maintenance garden that requires minimal maintenance
Spectacular private pool surrounded by solarium areas
Elegantly furnished kitchen and bathrooms in a very contemporary style
Etc.
Our villas are excellently located, in a quiet area of the La Marina urbanisation, but very close to supermarkets, shops, bars ... In addition, you will love to see that Alicante International Airport is located just 20 minutes away , which will make it easier for you travel to your home country greatly.
Do you want to find out more about our Detached villas for sale in La Marina Urbanisation? Contact SMART PROPERTIES
In addition to our Detached villas for sale in La Marina Urbanisation, we also have a wide variety of resale homes, among which we highlight: country houses, bungalows, townhouses, commercial premises, land ... located in La Marina, Guardamar del Segura, San Fulgencio, Elche, etc.
At SMART PROPERTIES we have a highly professional team of real estate agents who speak and write your language fluently: English, French, Spanish, Dutch, German ... We have a long experience in the Spanish real estate sector and in international customer service. Therefore, we will be happy to carry out all the necessary procedures related to the purchase of independent villas for sale in La Marina urbanisation, on the Costa Blanca.
Fill in the contact form that appears on our website and we will contact you immediately. If you prefer, you can visit us personally at our offices:
AMSTERDAM STREET OFFICE:
Calle Ámsterdam, 1 - 03177 San Fulgencio (Alicante) Spain.
Phones: +34 966 790 787 | +34 622 001 605
Email: sales@smartinmo.com
PISUERGA PARK OFFICE:
Pisuerga Park, 56 - 03177 San Fulgencio (Alicante)
Phones: +34 966 919 928 | +34 688 265 406
Email: sales@smartinmo.com
Share