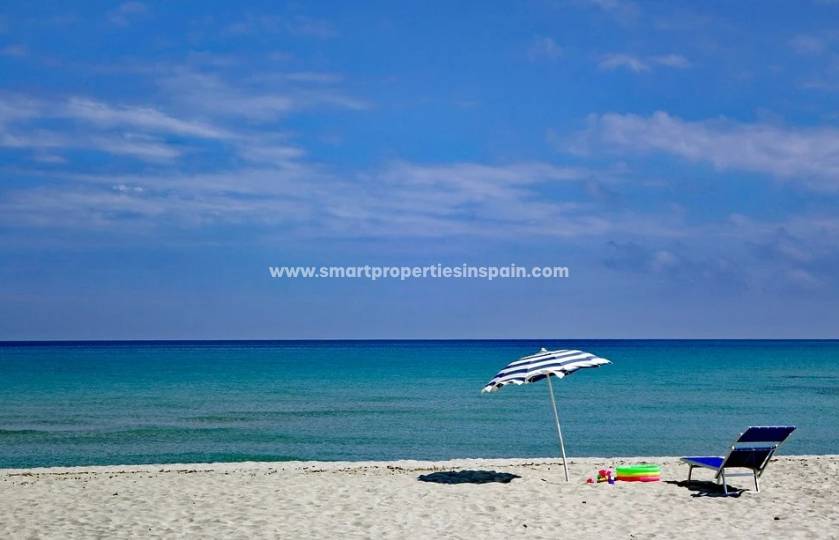 August 13, 2021
This summer come and enjoy the fabulous beaches of the Costa Blanca and relax in our Houses for sale in La Marina Urbanisation
Can you imagine yourself in a hammock sunbathing on a Mediterranean beach while listening to the soft murmur of the ocean waves? Very close to our Houses for sale in La Marina Urbanisation are the fabulous beaches of La Marina and Guardamar del Segura where you can have fun taking a bath in its warm waters or building magical sand castles with the smallest of the family. You will love strolling along the seashore while tanning or savoring an exquisite seafood paella at a beach bar .
The success of the La Marina urbanisation is based on the fact that it allows you to live in a peaceful environment, but with easy access to the important towns in the environment . It is located in a privileged location with convenient access to the places of greatest interest, since it is located:
A short distance from the Beaches of La Marina and El Pinet
3 kilometers from La Marquesa Golf Club, in the popular Ciudad Quesada
It has a short journey to Alicante International Airport
You will be surprised by the amount of daily and very affordable flights that depart to the main European cities, which will make it easier for you to travel to your country of origin whenever you want or to receive your family and friends frequently.
Do you want to live in a peaceful environment without giving up the touristy beaches of the Costa Blanca? Our Houses for sale in La Marina Urbanisation are the ideal option
SMART PROPERTIES offers you a wide range of Houses for sale in La Marina Urbanisation. Our elegant modern-style villas are characterized by their facades with straight lines and large glazed areas that allow the sun to enter all rooms. You will love our individual resale chalets built with a traditional design , typical of the Costa Blanca. You will easily recognize them by:
its porches, stairs and terraces with white balustrades
The reddish and ocher roofs contrast with the light facades
Natural stone baseboards
The artistic lattices on your windows
We offer you an interesting selection of properties with a reduced price where you will find interesting offers in chalets, villas, townhouses, land, commercial premises, flats, semi-detached ...
Do you want to find out more about our Houses for sale in La Marina Urbanisation?
Do not hesitate to contact us if you want more information about our Houses for sale in La Marina Urbanisation. We have an expert professional team that will kindly assist you in your language to solve all those doubts you may want related to the purchase of a property in Spain. In addition to accompanying you throughout the process of buying your home, we offer you a complete after-sales service that will allow you to come to us whenever you want. We will be happy to help you settle on the Costa Blanca.
To visit houses for sale in La Marina urbanisation or if your intention is to sell a house on the South Costa Blanca , SMART PROPERTIES is the real estate you need. Contact us and see for yourself. Fill in the form that you will find on our website or write an email to sales@smartinmo.com . We wait for you in our offices:
AMSTERDAM STREET OFFICE:
Calle Ámsterdam, 1 - 03177 San Fulgencio (Alicante - Spain)
Phones: +34 966 790 787 | +34 622 001 605
PISUERGA PARK OFFICE:
Pisuerga Park, 56 - 03177 San Fulgencio (Alicante)
Phones: +34 966 919 928 | +34 688 265 406
Share