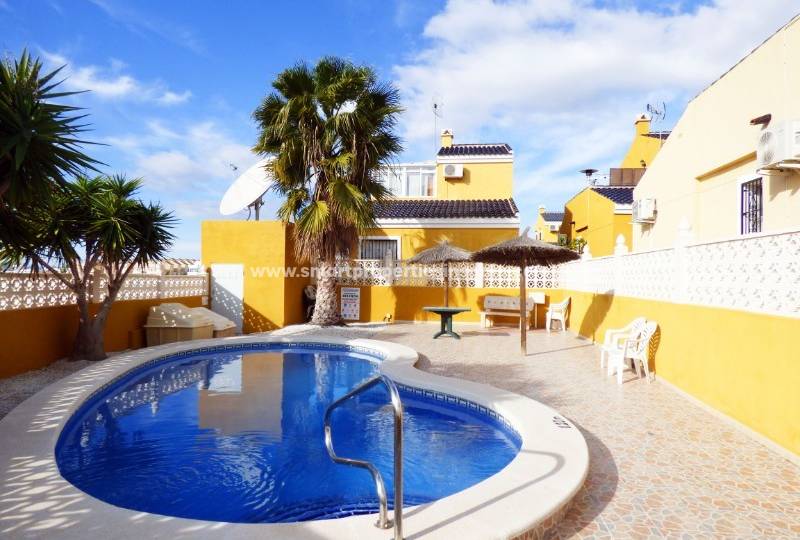 May 11, 2021
It is impossible not to resist our villas for sale in La Marina Urbanisation with terrace
What are your plans for this summer? If you want to lie on the golden sand of the Costa Blanca, sunbathe on a private terrace, bathe in the pool or take a leisurely stroll along the shore of the Mediterranean Sea , at Smart Properties we know what you are looking for: villas for sale in La Marina Urbanisation - Saint Fulgencio.
La Marina is a district of Elche that intertwines spectacular Blue Flag beaches, a beautiful pine forest by the sea and a wide variety of restaurants where you can taste the best seafood paellas with a good jug of sangria. There is nothing more pleasant than listening to the murmur of the waves of the sea while enjoying a romantic evening with your partner. With its favorable climate of more than three hundred days of sunshine a year and privileged natural surroundings , it is easy to get carried away.
Just 5 kilometers from the coast, there is a cozy urbanization full of bungalows, chalets, ground floors and semi-detached houses with large terraces where a multicultural population enjoys the benefits of climate, gastronomy, leisure and proximity all year round. with the sea. That La Marina Urbanization is the largest municipality with foreign residents in the country is not a mere coincidence.
What is special about our villas for sale in La Marina Urbanisation that they like so much
One of the greatest charms of our villas for sale in La Marina Urbanisation are its spacious and sunny terraces . This part of the house is where the owners enjoy the good temperatures sunbathing, reading a book, talking with friends or simply appreciating the idyllic surroundings.
In an area as sunny as Costa Blanca, terraces are essential. They are not only enjoyed in summer, but also in other seasons thanks to the stable and mild climate characteristic of the Alicante area . You can do all the activities that you propose outdoors:
Stroll along the beach
Do yoga in the garden
Go on a picnic with family or friends
Walk / Run / Skate on the boardwalk
Hiking tours
Bike routes
Play golf
If you are looking for places that make you feel good , Urbanización La Marina is one of them. It has everything you imagine: sun, beach, leisure, bars, restaurants, chalets with a terrace, etc.
Come and see our villas for sale in La Marina Urbanisation
Would you like to live Mediterranean in one of our villas for sale in La Marina Urbanization? You are in the right place. At Smart Properties we are local experts in the area and we can provide you with all the information you need: exact location, best market prices, specific properties or even how to sell a property .
Discover in Smart Properties which is your ideal place in Costa Blanca South :
You can find us at Calle Ámsterdam 1, 03177 San Fulgencio (Alicante, Spain).
Share