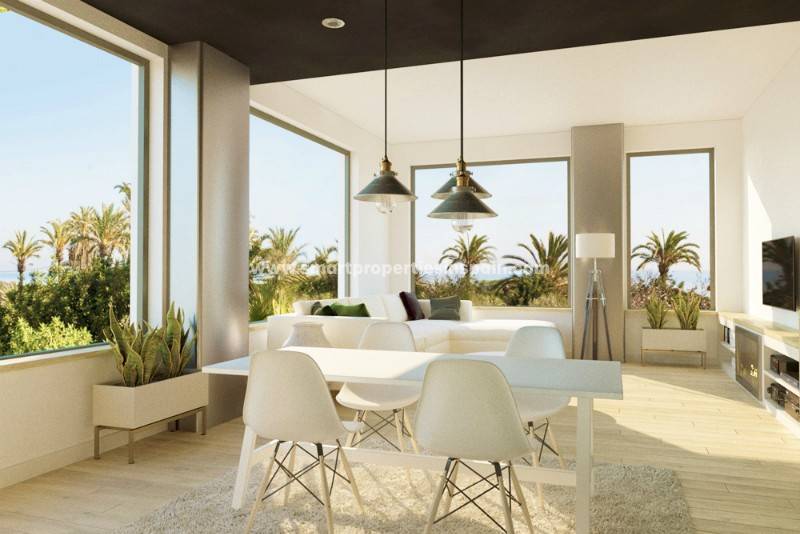 December 11, 2020
When you think of a warm place in front of the sea, you will think of our properties for sale in La Marina
In a quiet environment, with sea and wild dunes , you can find a beautiful home where you can enjoy your free time and change of scene: we talk about our properties for sale in La Marina. The Costa Blanca of Spain offers natural landscapes as spectacular as those offered by this incredible apartment for sale in La Marina Pueblo .
At Smart Properties we are proud to display a great selection of villas, townhouses, bungalows, apartments, country houses, both second-hand and new-build . If you are looking for a Mediterranean home away from bad weather and gray skies, La Marina will welcome you with a radiant sun whatever the season. Moving to one of our charming houses for sale in La Marina will be one of the best decisions, especially if you are passionate about the sea and good weather.
Our homes are characterized by their proximity to the beaches of La Marina and Les Pesqueres-El Rebollo , both awarded in 2020 with the Blue Flag status as a symbol of:
Purity: crystal clear waters and beautiful golden sands
Respect for the environment: conservation of beautiful dunes and spectacular native vegetation
Quality of its waters and services provided (rental of umbrellas and hammocks, footbaths, beach bars, rescue and first aid, parking, accessibility for people with reduced mobility, etc.)
The contrast of the Mediterranean trees and the sea make this place one of the ideal destinations to relax and breathe the fresh air of the sea breeze . You will not be able to resist a spacious terrace with views of the area like the ones we offer in our homes in La Marina, San Fulgencio or Guardamar del Segura. To learn more, access our portfolio of photographs.
Wherever you look at them, our properties for sale in La Marina will captivate you
We are specialists in properties for sale in La Marina - San Fulgencio, but you can also find a charming vacation home in other cities such as Elche, Guardamar, Santa Pola or Torrevieja . If you did not know La Marina, you will be interested in knowing some curiosities about this small coastal town of Elche:
It boasts more than 300 days of radiant sunshine a year
It has one of the best campsites on the Costa Blanca on the shores of the Mediterranean: known as La Marina Camping & Resort
It is bordered by two emblematic places in the area: Las Salinas de Santa Pola to the north and the mouth of the Segura River, in Guardamar, to the south
Varied restaurant offer with typical Mediterranean dishes
Make your dreams come true in our properties for sale in La Marina
Our properties for sale in La Marina will seduce you with their spacious terraces overlooking a green forest or incredible views of the sea. At SMART PROPERTIES we encourage you to get to know the Mediterranean climate, taste authentic paellas and stroll along the quiet beaches of La Marina.
Are you also passionate about the Mediterranean lifestyle with its placid temperatures and varied diet? Start planning your getaway to the Costa Blanca today with the help of our real estate agents:
Landline: +34 966 790 787
Mobile phone: +34 622 001 605
Email: sales@smartinmo.com
Office: Calle Ámsterdam 1, 03177 San Fulgencio (Alicante, Spain)
Share