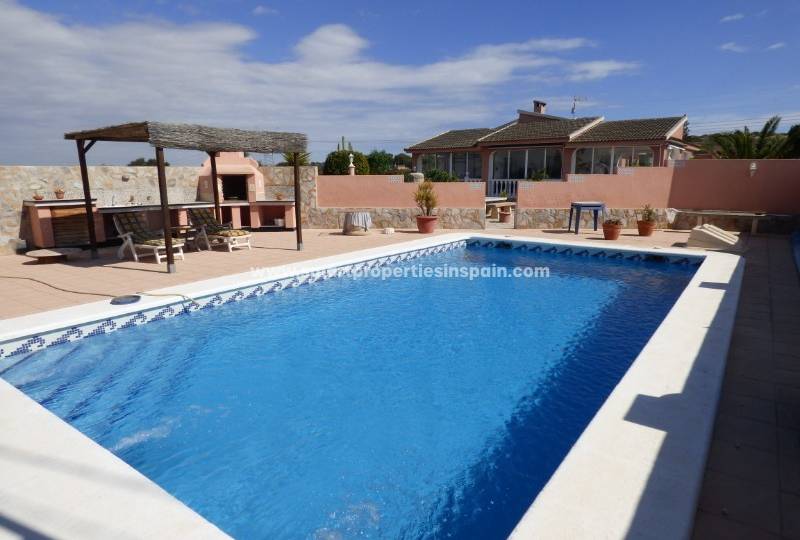 June 23, 2020
Homes for sale in Elche, a great opportunity to disconnect with nature and relax in a private pool
After the restrictions are lifted, this year's vacation comes more desired than ever. Quiet rural destinations are now a priority for disconnecting and breathing fresh air. If you want to spend more family time in nature settings , we recommend our charming homes for sale in Elche Campo, where you can lead a healthy lifestyle.
Are you one of the people who likes to take advantage of the mornings to go for a walk? You will love to discover the surroundings of this beautiful villa for sale in La Marina with garden and pool through the different scenic walks. You will be captivated by the panoramic views of the mountains , the care of the gardens and the aroma that flowers and fruit trees give off in the environment. If you are a lover of gardening and natural spaces, our independent villas in La Marina - Elche will be really interesting for you.
If you have not found the home you were looking for among our catalog, you should know that at Smart Properties we are also builders. We will be happy to design and build your dream property with the most competitive prices in the sector . We shape any idea that our clients present to us. In the countryside of Elche and La Marina you will find a selection of building plots ideal for building a Mediterranean-style villa with pool and barbecue or a spectacular modern villa to suit the owner.
Homes for sale in Elche between sea and mountains
The excellent location of our homes for sale in Elche will allow you to enjoy a Mediterranean landscape full of contrasts: sea and mountains, town and city, nature and monuments ... The advantage of living in our chalets or farms is that you can walk on the trails of the course while walking along the seashore or playing golf .
Our houses for sale in La Marina or Elche are just 15-20 minutes by transport from the coast of Elche, a mandatory getaway if you want to bathe in crystal clear waters or sunbathe calmly with the murmur of the waves in the background. Five of its six beaches boast yet another year of the Blue Flag badge, which demonstrate the special care of its waters, sands and quality of its services:
El Altet beach
Arenales del Sol beach
The Carabassí
La Marina Beach
Les Pesqueres-El Rebello
Would you like to live in our homes for sale in Elche? Contact us
In our homes for sale in Elche, you will know a small part of the Costa Blanca that will make you fall in love : from its wild sand dunes to its exotic pine forests. The Marina Urbanization is one of those spectacular places that you will find in Spain that leaves no one indifferent.
Ask our experts for the quietest and most beautiful areas and, as soon as possible, we will offer you a list of dream locations where you could happily live with your family or partner . If you are looking for a refuge in the Mediterranean sun, you already know where to find us:
Office: Calle Ámsterdam 1, 03177 San Fulgencio (Alicante, Spain).
Landline: +34 966 790 787
Mobile phone: +34 622 001 605
Fax: 966 797 842
Email: sales@smartinmo.com
Share