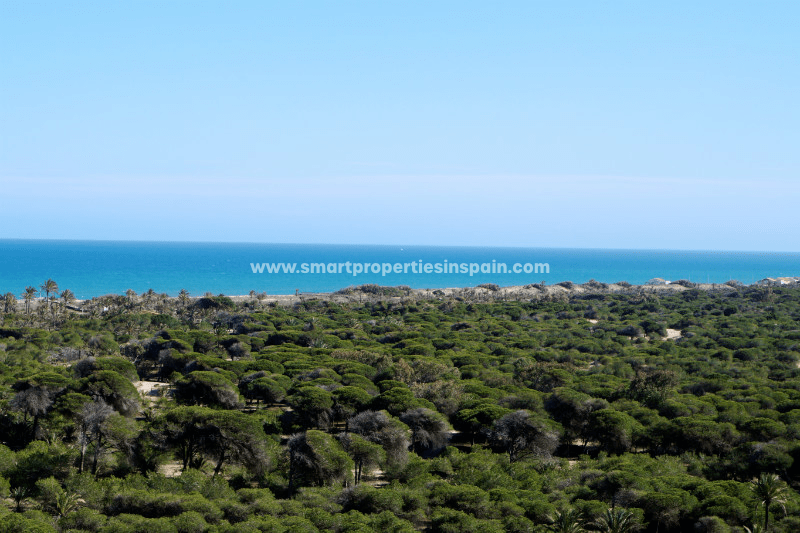 June 4, 2020
​In our homes for sale in Guardamar del Segura you will enjoy a splendid Mediterranean climate combined with sea activities
What are your plans for this summer 2020? If you would like to disconnect for a while in a natural environment, you should visit our homes for sale in Guardamar del Segura. You will be surrounded by beautiful sand dunes, extraordinary beaches with crystalline waters, paths, natural spots,... You will be captivated by the beautiful landscapes that can be seen on the terraces and windows of our houses.
Guardamar del Segura is a quiet village in Alicante where visitors enjoy relaxing walks on the edge of the sea while tanning their skin at any time of year. In winter the temperatures are mild and stable and in summer the sun shines more than ever, the average annual temperature being 18ºC. This magnificent microclimate that is created on the Costa Blanca is atypical for other central European countries that have to cope with low temperatures.
The climate accompanies almost 365 days and the residents take advantage of it to practice their favourite sport or undertake a new activity thanks to its extensive sports infrastructure. Lovers of the sea can drop in on its beautiful marina known as Marina de las Dunas where they can enjoy a variety of activities:
Water sports: sailing, jet skiing, canoeing, kayaking, water skiing, windsurfing...
Diving and snorkeling courses
Mooring of boats and sailboats
Fishing competitions
Regattas
Discover an exquisite selection of homes for sale in Guardamar del Segura near the beach
At Smart Properties we have an excellent range of homes for sale in Guardamar del Segura ideal for families or retired couples who wish to live quietly attached to the salty waters of the Mediterranean. Along its 11 kilometres of coastline, there are magnificent apartments and flats with swimming pools that you will love. Waking up in front of the sea is a delight for the five senses of the body.
Did you know that 3 of Guardamar's 8 beaches have been awarded the Blue Flag in recognition of their environmental care and the quality of the services they provide? From our properties for sale in Guardamar you will have easy access to the stunning beaches of Playa Centro, Playa Moncayo and Playa de la Roqueta, three jewels of the Mediterranean that you should not miss.
If you want to surprise your family with an unbeatable holiday by the sea or simply reward your efforts with a relaxed stay, we recommend that you visit our catalogue of flats, apartments, duplexes, ground floors, villas, townhouses, urbanisations... both resale and new build.
If you are interested in our homes for sale in Guardamar del Segura, please contact us
By living in our homes for sale in Guardamar del Segura you will be able to conquer a little piece of the Spanish Mediterranean. Trust the experience of our real estate agents on the Costa Blanca and let us help you find the home you have always imagined.
Would you like more information on any of our properties for sale? If you have any questions or queries, we are available through the following contact channels:
Office: Calle Ámsterdam 1, 03177 San Fulgencio (Alicante, Spain).
Phone number: +34 966 790 787
Mobile phone: +34 622 001 605
Fax: 966 797 842
Email: sales@smartinmo.com
Share