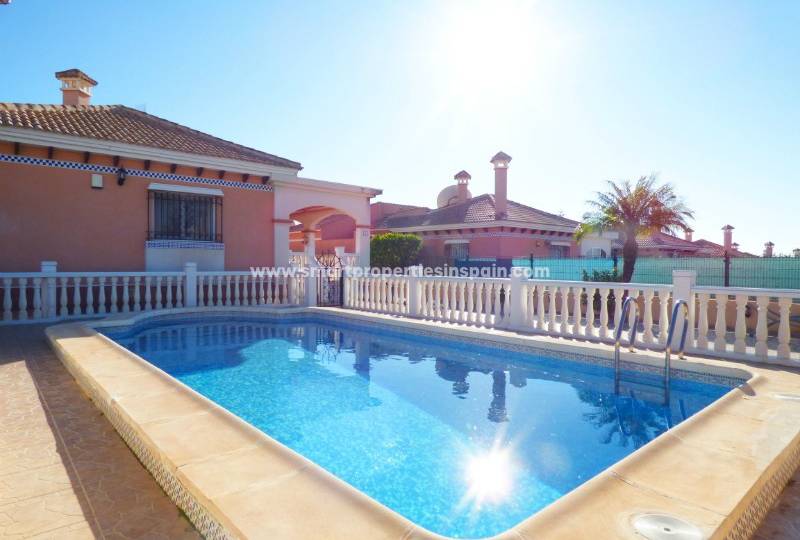 July 15, 2019
Discover our fabulous villas for sale in La Marina and you will want to live in them
Can you imagine yourself in the solarium of your new house on the Costa Blanca reading your favorite book? Would you like to take a refreshing dip in your impressive pool? We invite you to visit our fabulous villas for sale in La Marina and all your dreams will come true.
If you are thinking of buying a home in Spain to enjoy long holiday seasons or establish yourself after your retirement, then we recommend a magnificent place where you will live relaxed.
In La Marina you will enjoy, more than three hundred days a year, a bright and cheerful sun . This will allow you to perform many outdoor activities and lead a healthy lifestyle.
If you live in La Marina you can have fun in your pool or relax in the large solarium that surrounds it for many months a year.
And, in addition, you do not have to give up having fun on the unbeatable beaches of the Costa Blanca.
Although the location of this beautiful residential nucleus is not located next to the sea, only five kilometers separate it from the extensive beaches of Guardamar del Segura.
In Guardamar you will find the beaches with the most temperate waters of the entire Spanish Mediterranean.
While in August the water temperature reaches 27º C, in winter it does not fall below 20º C.
With these peculiar characteristics it is very common to find bathers or water sportsmen all year round in these beautiful beaches of the Costa Blanca South.
If you are passionate about golf, you will love living in our villas for sale in La Marina
Another great advantage of our villas for sale in La Marina is its proximity to the Golf Club "La Marquesa" located in Ciudad Quesada.
Just three kilometers from your house you can enjoy pleasant days in the company of your friends on this magnificent 18-hole golf course.
The Marina is a modern and quiet urbanization belonging to the municipality of San Fulgencio where you can live peacefully and surrounded by nature throughout the year.
It has a wide variety of shops and urban services such as medical center, post office, police agencies, pharmacies, ...
Another great advantage is its easy accessibility to the points of greatest interest such as the main surrounding cities or the Alicante Airport .
SMART PROPERTIES offers you a varied portfolio of villas for sale in La Marina , Elche, Guardamar del Segura, ...
These magnificent homes of new or resale work have a private plot where you have a huge pool surrounded by large areas of solarium.
Would you like more information about our villas for sale in La Marina?
We would love to offer you all the information you need about our villas for sale in La Marina.
We have villass of modern style or traditional Mediterranean design . In both cases they are very well integrated into the environment.
Our extended hours of customer service are from Monday to Saturday.
In addition, we have three offices to assist you.
You can send an email to sales@smartinmo.com or fill out the contact form that appears on the web to make your query.
Our offices are located at:
OFFICE 1
Calle Amsterdam, 1 - 03177 San Fulgencio (Alicante - Spain)
Telephones: +34 966 790 787 | +34 622 001 605
OFFICE 2
Esla Park, 65 - 03177 San Fulgencio (Alicante)
Telephones: +34 966 790 787 | +34 622 001 605
OFFICE 3
Pisuerga Park, 56 - 03177 San Fulgencio (Alicante)
Telephones: +34 966 919 928 | +34 688 265 406
Share